We have a fantastic team of highly trained and experienced nannies.
All of our nannies are
vigorously

vetted and hand picked for their unique expertise.
ABSki nannies are all DBS checked with relevant first aid qualifications.
Here's a short bio of each of our brilliant winter 2022/23 nannies!
Lucy Carter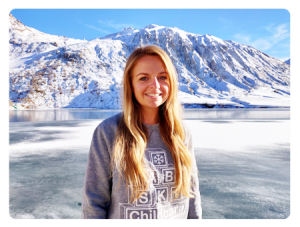 Lucy has been working with children for the last 17 years! Her varied experience has taken her around the world and landed her in Tignes 10 years ago. After falling in love with the Alps and wanting to combine her passions she started ABSki Childcare. Lucy is also a certified maternity nurse and sleep consultant who is always on hand for our lovely families and nannies. Spending time with children is still her passion especially on sunny days in Tignes!
Hollie Hunter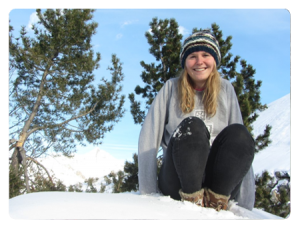 Hollie has lived in Tignes for 2 winters. She has a degree in Occupational Therapy and has worked in paediatric clinics and hospitals helping kids with various needs improve their cognitive, physical, sensory, and motor skills. Whilst at University she was a Girl Guide Leader and has also worked on ACF children's summer camps in the UK. She is a fun loving individual and any parent would be delighted for Hollie to care for their child here in Tignes!
Charlotte Griffiths
Charlotte has been skiing in the French Alps since she was 3. She's a keen skier with a passion of mountain life. Her experience in childcare has spanned over the last 3 years while nannying and working in schools. Caring for children from 18 months plus including SEN 1:1 care. She loves all things skiing, equestrian arts and crafts. As she heads back to Tignes Charlotte can't wait to share her lifelong passion of skiing with the children she cares for.
Katie Griffiths
Katie is thrilled to be spending her first season in Tignes with ABSki! She has worked with children, particularly with SEN, in Primary Schools and absolutely loves it. Katie has a 1st Class degree in Acting and is passionate about incorporating parts of her actor training into her work with children. She is particularly excited about combining her love of the mountains with creating memorable holidays for each and every family.
Niamh Canning
Niamh has graduated with a level 8 degree in early childhood care and education. During her studies and experience in schools and private nannying. Niamh has developed a real passion for caring for children. Niamh has experience with newborns upwards and loves to incorporate the skills she's learnt working in a various settings in all of her placements. She can't wait to bring these to Tignes and combine them with her passion for outdoor play.
Chloe Combra
Chloe is excited to come back to Tignes! She has spent the past five years working primarily as a private nanny with children of all ages from new-born to teen. Her experiences have incorporated caring for children with SEN which Chloe finds extremely rewarding. Chloe has cared for children all lots of different locations from USA, to Paris and now the mountains. Chloe loves staying active and getting fresh air whenever possible. With her love of the outdoors and all the wonderful activities that Tignes has to offer, she can't wait to make this an unforgettable holiday for the kids she cares for!
Josie Davies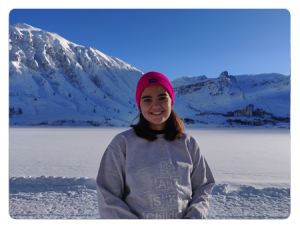 This is Josie's second season here in Tignes! She has over 6 years of childcare experience, most recently working as a nanny in France and working for us here at ABSKI during our 2022 season! Josie has experience with newborns up to teenagers and loves creating games and doing arts and crafts. Josie is bubbly, full of energy, and creative! Scavenger hunts, sledding, and all things Disney are Josie's go-to's! She is so excited to create an amazing holiday for your children!
Michaela Ivicici
Michaela's looking forward to her second winter season. She has 4 years of childcare experience. Starting as an au pair and continued as a private nanny in different countries. After developing a passion for working with babies Michaela studied for her level 4 maternity nurse course she now practices as a Maternity nurse and private nanny. Michaela loves being active like to do any sports and outdoor activities with children which is why the French Alps is one of her favourite places to care for children.
Dana King
Dana is from New Zealand, and has had seven years' experience in childcare as a nanny with children of all ages. This is Dana's first season in Tignes, having spent the 2022 season in Wānaka, New Zealand. She has a graphic design degree, and loves to get creative when working with children. She loves skiing, surfing, skating, music, and art, and is always looking for new ways to have fun, which is why she is so excited to spend this season in the French Alps skiing and hanging out with kids!
Bella Perry
Bella is extremely excited for her second season in Tignes! She has spent the last 4 years working with children of all ages and has loved it. Bella encourages creativity and fun, and spent the summer working in a camp in Upstate New York, where she taught art and textiles to 5-16 year olds. As a child, Bella spent several seasons in the alps. Her happy childhood memories, combined with her time spent being a live in nanny in Tignes last year have encouraged Bella to return to the alps, in the hopes that the children that she works with will make as many happy memories as she did, and grow to love her favorite outdoor activities as much as she does.
Lily Barnard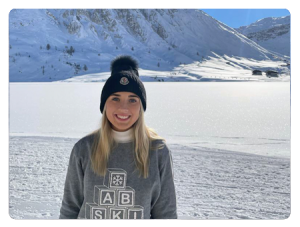 Lily is very excited to be spending her second winter in Tignes! She has 6 years of experience working with children from the age of 3months-10years. She started her childcare journey in a nursery setting with the under 2s achieving her level 3 cache in early years. She then became a private Nanny here in Tignes and in London. Messy play and being outside exploring are her go-to activities to ensure the children have a fun time in the mountains.
Carly Lucas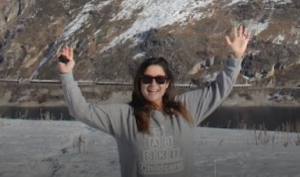 Carly is joining us again for her sixth winter. She's back in Tignes after working on her own nanny agency "Real Nannies" in the UK she is now helping us out on our busiest weeks.
Carly's childcare career has seen her working with families from all walks of life each with their own unique and exciting ways to bring up children. She has worked with children from VVIP families from Russia, to
local village children in Surrey, to UHNW children in London and High-profile children in Cobham,
many of whom I'm still in touch with to this day. My adaptability and open-minded outlook enables
me to create fast and strong connections with both the children and their parents.
As a nanny she would describe herself as adventurous, exciting and loving.  I understand that my presence has a huge effect on those little people around me so
continue to remain bubbly, happy and warm.